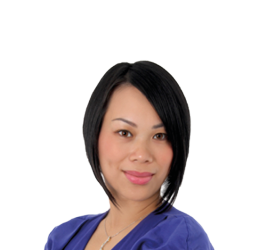 Nicki Hue Tran
Life and Health Insurance Advisor
My mission is to provide sound advice and help you achieve your financial security goals by listening to your priorities and aspirations. I help you identify your short and long-term needs and develop a suitable financial security plan, keeping in mind the values that motivate my commitment to you:
Availability
Competency
Integrity
Respect
Building a solid financial security plan together will help you balance all the aspects of your life by providing ways to prevent and protect against the financial risks associated with a disability, illness, loss of independence or death.
I am committed in guiding you in the achievement of your financial security goals by transforming your ambitions into concrete solutions to ensure that they are realized.
I hold a degree from York University and maintain the following designations : B.A.S.
Moreover, with my commitment to continuing education, I can provide you with pertinent, timely advice to guide you with your financial security planning. I offer you my expertise and knowledge to help you carry out your most important goals.
I stay on top of all the latest developments in the area of financial security planning and continually update my knowledge to ensure that I can offer the best and most current advice, with your needs front of mind.
I have decided to associate myself with Desjardins Financial Security Independent Network, a major distributor of financial products and services that gives me all the support I need to provide the excellent service my clients have come to expect. Being a part of Desjardins Insurance1, a leader amongst Life and Health Insurers in Canada, Desjardins Financial Security Independent Network and its Quebec counterpart SFL have over 1,300 partner representatives and more than 40 financial centres and sub-branches from coast to coast.
3000 Steeles Ave. East, Suite 303
Markham, ON L3R 4T9
Tel.: 905-470-7788
Cell: 647-298-9225
Fax: 905-470-7780
nicki.tran@dfsin.ca
1 Desjardins Insurance refers to Desjardins Financial Security Life Assurance Company, a provider of life and health insurance and retirement savings products.